UNIST has gotten world-wide attention once again as a promising young university of science and technology.the 2018 Times Higher Education Asia University Rankings
UNIST is ranked number one in South Korea and third place in Asia in terms of citation impact, according to . The total number of citations per paper represents the overall impact of the research of the university.
The latest rankings, released on the 6th of February, uses the same 13 performance indicators as the THE World University Rankings, but they are recalibrated to reflect the attributes of Asia's top institutions. The universities are judged across all of their core missions – teaching, research, knowledge transfer and international outlook – to provide the most comprehensive and balanced comparisons available.
Besides, when measured the number of citations a university's research obtains, UNIST obtained 95.9 points, a value near 100. Thereby, UNIST holds on to the number one spot in the THE Asia University Rankings 2018, overtaking Pohang Unviersity of Science and Technology (POSTECH, 76.4 points) and Korea Advanced Institute of Science and Technology (KAIST, 70.4 points). Meanwhile, the rankings also indicate that UNIST has been ranked between numbers 201-250 among the world's top 1,000 research intensive universities.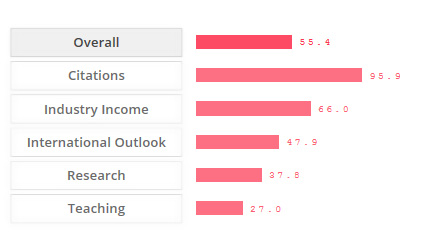 In this year's THE Asia University Rankings, UNIST obtained a total score of 55.4. UNIST's highest score was in citations and industry income and demonstrated its strong research influence. As shown above, UNIST also scored 27 points in teaching (the learning environment), 37.8 points in research (volume, income, and reputation), 66.0 points in industry income (knowledge transfer), and 47.9 in international outlook (staff, students, and research).
"UNIST's strength in research, scholarship, teaching and international stature is reflected in this ranking," says President Mooyoung Jung of UNIST. "We are delighted that UNIST has achieved such a high global ranking and it is thanks to all the hard work of our faculty, students, and staff."
This year, the National University of Singapore is ranked first in Asia, followed by Tsinghua University, Peking University, University of Hong Kong, and Hong Kong University of Science and Technology.
Browse the full list of universities in this year's rankings